Business Financing
Business Finance Services offers technical assistance to businesses located in or expanding to San Joaquin County that create or retain jobs. The professional staff works with local lenders, the Small Business Administration (SBA), the Tracy/San Joaquin County Certified Development Corporation and the County's Revolving Loan Fund (RLF) to select the best source for financing. Loans may be arranged for the startup, retention or expansion of business activities in San Joaquin County.
---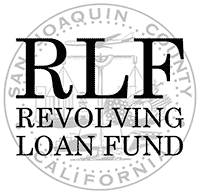 Revolving Loan Fund Services offered through the San Joaquin WorkNet's Business Finance Services Division are available to any company located in, or considering expansion in, San Joaquin County and are intended to create or retain jobs.
Businesses located in the Enterprise Zone may qualify for discounted interest rates and fee waivers. More than $37 million in loans have been delivered by the Business Finance Services division. Financing may be provided for:
Acquisition of owner occupied land & facilities
Acquisition of Machinery and Equipment
Leasehold Improvements
Inventory and Working Capitol
| | |
| --- | --- |
| Type of Loan | RLF Loan Financing |
| Targeted Customer: | For startup, gap financing, expansion or location of businesses in San Joaquin County. |
| Use of Funds: | Acquisition of owner occupied land and facilities, building construction or remodeling, purchase of equipment, furniture, and fixtures, leasehold improvements, working capital needs, and/or inventory |
| Method: | Direct loan to individuals. |
| Requirements: | 1 job created for every $20,000 loaned, however, each loan request is considered individually, targeted private/RLF financing ratio is 2:1, and ability to repay the loan. |
| Terms and Interest Rate: | 15 years maximum term, and generally not exceeding the full useful life of the assets being financed; minimum interest rate is 5%, however, it is set by the RLF Administrative Board at time of commitment, generally based on the West Coast Low Prime lending rate plus up to 4%. Loans are targeted from $25,000 - $150,000. Maximum RLF loan is $1.5 million. |
| Enterprise Zone Benefits: | All loan packaging fees will be waived, and 1/2% may be discounted from the interest rate. |
Want Enterprise Zone Business Financing?
Contact our RLF representatives by calling 468-3615 or e-mail at
RLF@sjcworknet.org